Rabobank is one of the largest Dutch banks with a few million customers. Their app and website are used by a few hundred thousand customers and visitors on a daily basis, manly through mobile devices. 
Currently the Rabobank.nl environment is running on old software and old designs that don't fit the zeitgeist. In 2019 a first concept/first vision was presented for a new design direction that fits better in the current day and age.
Alec was part the team Site, Search & Bots. Who were responsible for expanding and applying the new design direction for the complete (not logged in) online environment, the search functionality and the chatbot.
One of the bigger projects I worked on at Rabobank was creating a new concept for their foundation website. I worked closely with project stakeholders to co-create solutions that solved real user needs. Design methods I used included facilitating workshops, prototyping solutions and high level design. 
Some of the challenges were creating filterable projects, requesting a loan feature and a donation feature. These features would highly relieve their callcentre and optimize their workfow regarding donations.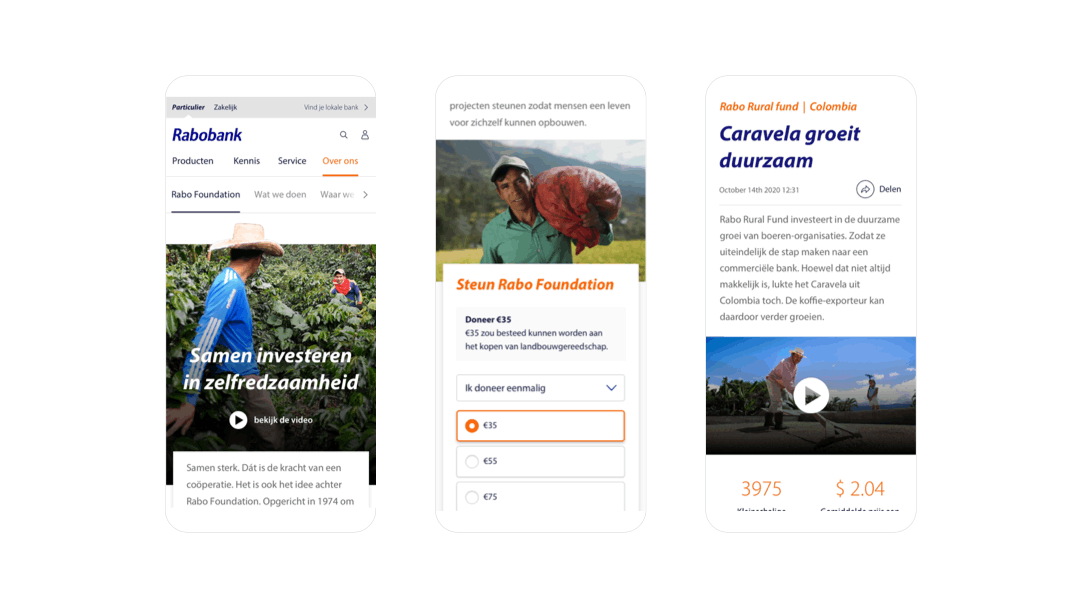 The 'About us' section of the Rabobank was scattered over multiple sites (Rabobank.nl, Rabobank.com and many others). The goal was to move all 'About us' content to one environment, Rabobank.nl. 
My challenge was to critically look at what content was needed for our users and how we could create a clear view with all this content. 
Design methods I used included facilitating workshops, prototyping solutions and high level design. 
Rabobank.nl - Service hub
The current service page on the Rabobank.nl environment was highly outdated. Rabobank's helpdesk overflowed with calls customers could easily solve themselves, but apparently couldn't find (easily) on the site. 
I worked closely with the service and call centre teams to make sure we service the user in the best possible way. We kicked off with a workshop to make sure we are aligned on the goals and what problems we want to/need to solve. I reviewed, updated and validated a new information architecture, worked on the page structure and started the first wireframes that lead to a high level design. The design was reviewed and user tested.